Interior visit: Guided Tour inside Brussels´Palace of Justice – 19/11/2022 – 15:30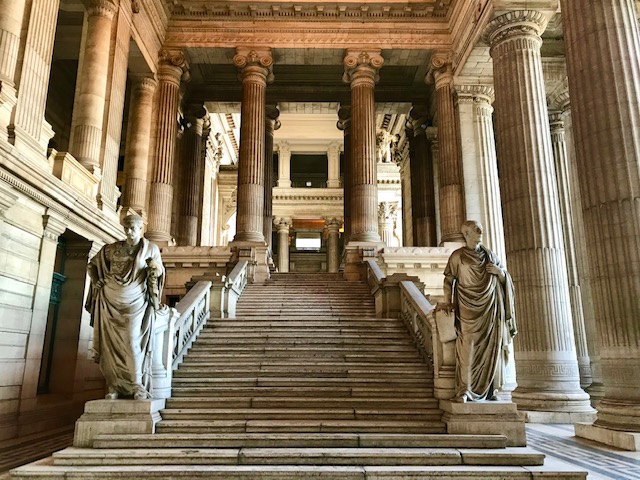 Who was Joseph Poelaert (1817-1879), the architect of the Palace of Justice? Why was he so obsessed with his profession that it upset him? He was so possessed that he did not complete his masterpiece – the largest building of the 19th century in Europe – himself. The 'Schieven architek', as the locals called him, was a true chameleon that could not confine himself to just one style.
The Palace of Justice is a neoclassical mastodont with Assyrian-Babylonian features. Poelaert regarded himself as an artist, a teacher and an ethical guide to bourgeois society. The entire Palace of Justice is bursting with references to independent justice in a 19th-century state where the separation of powers prevails.
Joseph Poelaert has calculated a great deal for this monumental building: heights, widths, number of steps, numbers and symbols are widely represented in the architecture and form the visible image of the invisible reality. Each number represents a certain quality and has a symbolic charge. The Palace of Justice thus became the most exemplary example of symbolism.
During this visit we dig into the past of ancient cultures and religions and uncover the secrets of the largest monument of the 19th century. You will gain insight into the role of the palace in the functioning of justice and we will visit several courtrooms. You will discover the story of the architect, the architecture, the urban planning and the symbolism behind this monumental façade.
Note that :
Guided tours on Saterdays are more expensive due to extra security costs
The visit to the rooms will depend on the accessibility and availability at that given time
Visitors reserve their tickets online in advance: tickets cannot be bought on the spot
Purchased tickets are not refundable.They may, however, be passed on to someone else.
All visitors must be present at the security desk (in front of the security gate) 10 minutes before the start of the tour
Latecomers will not be admitted to the building.
Any visitor will have to go through security
The building has limited access for participants with physical limitations. Please contact info@korei.be in advance to see what is possible.
Taking photographs is allowed except in the courtrooms where a hearing is in progress